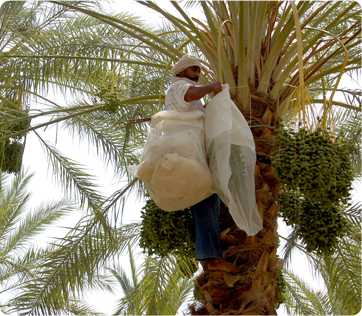 In March or in April, the fruit is green, round and small; during the summer, the date reaches its final size and it is yellow and soft, it is rich in vitamins but it won't ripen unless it undergoes the heat of summer and autumn.
It is then fragrant and sweet. For the oasis inhabitants,
the date
is so precious that it is given a name at each stage of its growth.
They store and consume them all the year long, It is no longer a sweet meal for them but a basic food and their survival guarantee.
The date
is omnipresent in the oasis meals. It is supplemented by cereals and dairy products, which provide the proteins and fat which are lacking in dates.
When the palms grove was the only resource for the sedentary inhabitants of the desert, every adult in the oasis consumed about
200 Kilos of dates a year.
To get them throughout all the seasons and in order to vary the menus, dates of quality had been selected.
But dates are not only food, but also a traditional remedy to various virtues: their decoctions calm anxious people, help children to sleep, heal ulcers and bring solace pregnant women thanks to their content of iron and potassium.
There is a typical proverb of ours: "
May your day be like date and milk
".
Deglet Nour :
It is the queen of all dates. It is the most appreciated variety in the world for its high quality and its unique sickly sweet taste.
Traditionally is named "fruit of shining light" for its translucent golden colour, smooth aspect and lovely shape. Deglet Nour is Horchani Dattes and vice versa.
Biology Dates :
Being a full owner of a palm grove certified Bio, "Horchani Dattes" is the pioneer in this field.
For eight years, "Horchani Dattes" has used organic agriculture based on a selection of the best date palms within the varieties of "Deglet Nour" certified by ECOCERT, a renowned French certifying organisation. The production is labelled AB (Agriculture Bio).
At the moment, the volume of organic date export is 440 tons, but in the face of rising demand from our foreign customers, "Horchani Dattes" is planning to double, a nd even treble it's production of organic dates to reach 1000 tons for the next five years.
"Horchani Dattes" is always in touch with its customers to better give them and offer a perfect product.
Others varieties :
Alig :
Having a long shape, being soft in appearance and bearing a particular good taste, this variety of duties is picked in November. It is dark mahogany-coloured and has a soft texture.
Khouat Alig :
Commonly known as " the sister " for it's similarity in texture, colour and taste with Allig, though it is thinner and less sweet.
Kenta :
Having a light golden colour and an attractive aspect, this variety has an early maturity. It is less sweet than the other varieties and has a semi-dry texture.