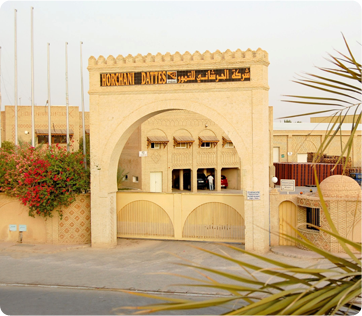 Horchani Dattes TM
, the first private grower of dates in Tunisia is indeed a real pioneer in the field of exporting and one of its prime leaders since 1930's. And so it happens that every year, in October,
1.200 tons
of sweet and pleasantly aromatic dates, exquisite fruits of modern an ecological cultivations, are collected by Horchani Dattes.
Half the crop, meaning 600 tons, belongs to the most appreciated variety in the world, the peerless
DEGLET NOUR
.
Three other varieties of dates are not far behind in quality, taste and appearance : Kenta, Allig and Khouat Allig are perfectly good which are much in demand from outside markets.
As a company,
Horchani Dattes TM
' reputation relies primarily on the ultra modern equipment of its industrial processing facilities allowing treatment and exportation about
3.500 tons of dates every year
. These dates come in three trademarks well known all over the world: Palm Fruit, Eden and Sultan.
This well-deserved reputation is also the result of the hard uncompromising and rigorous work methods adopted by
Horchani Dattes TM
at the factory in the production and distribution line,thus guaranteeing the highest possible quality of products.
Furthermore,
Horchani Dattes TM
is the inheritor of an ancestral tradition left to it by generations followed generations in the Horchani family who have grown dates for more than two centuries, that divine fruit, the source of life in the desert. It is a family-owned and managed enterprise which has been founded upon the exploitation of the largest plantation of date palms in the
Tunisian Sahara
, located in the valley of Saba Abar, in the hear of Djerid Oasis.
It is there that
Horchani Dattes TM
' family has been devoted, since the 19th century, to growing several varieties of thousand-year-old dates peculiar to the region. These dates are absolutely unique in terms of appearance, taste, swell and quality, which ranks them, today, as the best in the world.
Thus,
Horchani Dattes TM
has taken up the challenge to match the purest tradition with the most high-performing mode of modernity.
Organic dates
Being a full owner of a palm grove certified Bio,
Horchani Dattes TM
is the pioneer in this field. For eight years,
Horchani Dattes TM
has used organic agriculture based on a selection of the best date palms within the varieties of
Deglet Nour
certified by
ECOCERT
, a renowned French certifying organisation. The production is labelled AB (Agriculture Bio).
At the moment, the volume of organic date export is 440 tons, but in the face of the rising demand from our foreign customers,
Horchani Dattes TM
is planning to double, and even treble its production of organic dates to reach 1,000 tons for the next five years.
Horchani Dattes TM
is always in touch with its customers to better give them and offer a perfect product.